Almost 10 hours of music. The most important release of the entire Leo Records catalogue.
"One of the most important releases of the decade." RUBBERNECK.
"A fascinating monument to a decade of music from a significant music scene we still know very little about." WIRE.
"It represents the most substantial recorded evidence to date of a burgeoning movement of musical activity..." THE NEW YORK TIMES.
The original audio 8 CD box release of DOCUMENT was supplemented by a 32-page full-colour booklet. Here are some excerpts from this booklet:

Introduction

Personal notes of a frustrated record producer.

Artist Portraits (Selection)


"OCEAN - this is the archetype of every living, it is the beginning and the end and the invisible essence. ... It has neither beginning nor end nor form. ... Silence is the absense of contradiction. OM (perfect existence in its integrity and singularity) is the knowledge of being. The perfect state of the OCEAN."
-- quotes Valentina Goncharova


"The pianist, composer and bandleader Sergey Kuryokhin was born in 1954. He started studying piano at the age of 4. ... He is working on music for a string quartet, and he has been commissioned by KRONOS STRING QUARTET to write music for them. He is supposed to collaborate with Alfred Schnittke for Yuri Lubimov's production "Little Tragedies", and he is planning another tour of USA. The current of energy and fantasy generated by this artist seems inexhaustible. At the moment it is showing no sign of slackening."
-- quote Alexander Kahn, July, 1989


Alexander Sakurov was born in Ivanova in 1961. He studied piano, flute and in 1978 he started playing saxophone in restaurants and in the circus orchestra. Russian orthodoxy is a great spiritual inspirator for Sakurov. He is fascinated by old slavonic musical culture and sings in a church choir. His favorite jazz musicians are Coltrane, Ganelin Trio, Jan Garbarek. Favourite composers - Bach, Mussorgsky, Schnittke.


DOCUMENT 8
______________

I. Vladimir Chekasin
  solo and duo in blue - 20'18

II. Vladimir Tarasov
  something is happening in 
  the seascape - 18'25

III. Vyacheslav Ganelin
  simultamente - 18'45

IV. Ganelin/Tarasov/Chekasin
  ... old bottles - 16'15

DOCUMENT 7
______________

I. Sergey Kuryokhin/Igor Butman/
  Alexander Pumpyan
  first recordings - 5'05 - 4'22

II. Moscow Improvising Trio
  1. natural selection - 5'30
  2. conspircay - 6'25
  3. cogito - 6'35

III. "The Roof"
  1. I and me - 3'05
  2. ooh! - 2'00
  3. grave - 4'59
  4. coto - 7'05

IV. The Makarov New Improvised
   Music Trio
  incomplete tendencies of meta
  reality - 27'23

DOCUMENT 6
______________

I. Vladimir Chekasin/Sergey
  Kuryokhin/ Boris Grebenshchikov
  exercise - 19'15

II. Homo Liber
  1. St. Petersbourg'86 - 12'00
  2. homage to Velemir Khlebnikov
   - 17'00
  3. old basllade - 6'47

III. Alexander Sakurov/Yuri Dronov
  big explosion - 14'20

DOCUMENT 5
______________

I. Anatoly Vapirov/Sergey Kuryokhin
  1. Thracian duos - 34'55
  2. portraits:
   Benny Goodman is just round the
     corner  - 6'33
   Duke Ellington in bedouin garb
     - 4'50

II. TRI-O
  mirage - 6'19

III. TRI-O plus Sainkho Namchylak
  transformation of matters - 20'05

DOCUMENT 4
______________

I. Orkestrion
  1. 1987 - 6'15
  2. Tsaritsin - 11'40
  3. Abyss (meditation) - 17'30

II. Petras Vysniauskas/
  Kestutis Lusas
  in memoriam - 37'45

DOCUMENT 3
______________

I. Jazz Group Arkhangelsk
  above the sun, below the moon
   - 39'55

II. The Vladimir Chekasin Big-Band
  concerto for voice - 27'53

DOCUMENT 2
______________

I. Valentina Goncharova
  ocean - 55'47

II. Valentina Ponomareva
  1. midnight walk - 7'15
  2. eternal call - 9'15

DOCUMENT 1
______________

I. Dearly Departed
  - 33'20

II. Vyacheslav Guyvoronsky/
  Vladimir Volkov
  1. Skambha gita - 20'45
  2. jazz raga - 12'37
  3. five netsuke - 5'22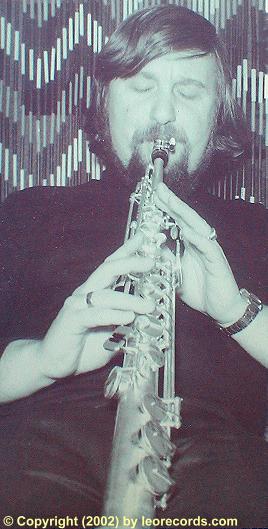 "
Anatoly Vapirov
has always been a kind of lone wolf on the Soviet jazz scene. He seems to be everywhere: a frequent guest at all major festivals, he records a lot but has never had a permanent group. ... Born in 1947, Vapirov studied at the Leningrad Conservatoire. After completing his postgraduate course, for a few years he was a professor at the Conservatoire. ... In the DOCUMENT Vapirov is represented by his duo with Kuryokhin. With some breaks they worked together for quite a long time."
-- quote Alexander Kahn, July, 1989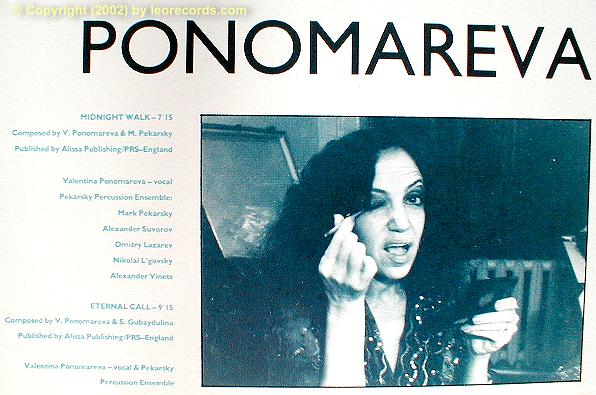 Valentina Ponomareva
is probably the best known Russian singer. She is a gypsy and lives in Moscow. Her musical career spans three long periods, which cover every possible musical genre: from singing with big-bands and music hall to performance with a gypsy trio "Romen", from singing classical Russian romances to free jazz. There is nothing she can't do with he voice which many Western jazz critics have called the most versatile instrument.
She developed an orginal style of producing sounds and a unique technique of jazz improvising.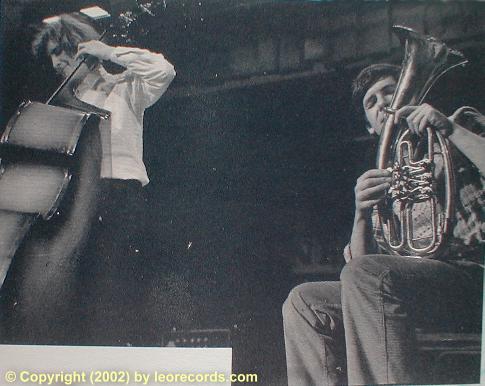 "Rumours about the high quality of [the
Vyacheslav Guyvoronsky and Vladimir Volkov
] duo have been circulating ever since a
Jazz Forum
review of 1984 Moscow jazz festival. A recent
down beat
festival review kept my curiosity active. That curiosity has been amply rewarded. This is Russian raga, with moods and colours the Russian soul glories in, a soaring, swinging, incandescent raga that transforms a sitar's bark into a bass bite. Whatever mood or colour you find your life in when you listen to this duo, you will be renewed by the moods and colours they offer: the ones you never imagined until you heard their celebration. "
-- quote Norman Weinstein, July, 1989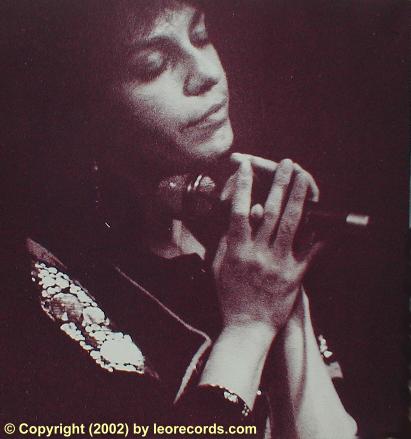 "
Datevik Hovhannessian
[the voice soloist in Concerto for Voice of
The Vladimir Chekasin Big-Band
] is certainly a big name in the Soviet jazz scene, in a way that she's our jazz diva. But as she has never been associated with new experimental music her inclusion in this anthology is surprising. This strikingly beautiful Armenian singer came to prominence due to her clear, strong voice, her warm southern lyricism, and the passion and feeling she brought to her performance of jazz evergreens, as well as to her versions of Armenian folk songs."
-- quote Alexander Kahn, June, 1989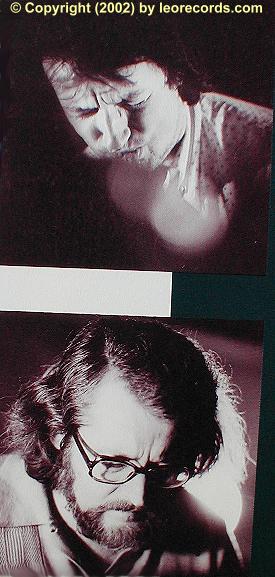 "
Homo Liber
is a duet of saxophonist Vladimir Tolkachev and pianist/keyboardist/composer Yuri Yukechev. ... The duo has not been very visible. Despite a further release 'UNTITLED' (Leo Records, CD LR 129 - no longer available) [after the group's predecessor quartet release HOMO LIBER, SIBERIAN FOUR (Leo Records, CD LR 114 - no longer available)] they did not tour at all and hardly ever performed at festivals. Tolkachev works in an orchestra and Yukochev is a composer, a member of the USSR Union of Composers, with over a hundred of works published and performed in June 1989."
-- quote Alexander Kahn, 1989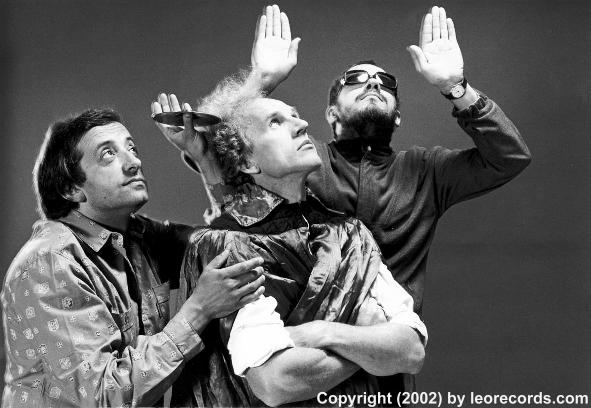 "In their home land they have never been known as the
The Ganelin Trio
. They have been known by the three sounds - GèTèChè - the abbreviation of the first names. ... The last disc of the DOCUMENT features three solo performances, and a part of the Trio's performance of 1984. Checkasin opens the disc with an extremely rare extended solo of striking beauty and tension. That's were he is really a genious - playing saxophone. One wishes he had done it more often. For Tarasov solo playing has become his main format now, he reinforced his drum set with heaps of electronics. ... To sum it all up, to show how wonderful the Trio used to sound, the closing piece of the DOCUMENT is the collective performance in Britain, 1984. It swings and it is abstract, it's melodic and it's chaotic, it's impeccably structured and yet there is total surprise every second, it's permeated with a refined sense of style and yet it's eclectic - it's great music from a great band."
-- quote Alexander Kahn, July, 1989