LEO RECORDS Music for the Inquiring Mind and the Passionate Heart
CD catalogue: [All | Leo Records | Leo Lab | Golden Years of New Jazz | feetfirst records | Long Arms | DOMA] :: New releases: [2017/09, ../06, ../05, ../03, /02, 2016, ..15, 14, 13, 12, 11, 10, 0x, 199x]

Home | Artist list | Mail Orders | Distributors | Contact | Events & Links] :: About [Golden Years | LeoLab | Long Arms/Doma | feetfirst]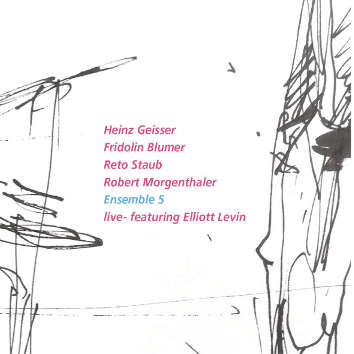 This is the third release by the Ensemble 5 led by the Swiss drummer Heinz Geisser. His special guest for this recording is the Philadelphia tenor sax powerhouse, flutist and poet Elliott Levin. With double bassist Fridolin Blumer, pianist Reto Staub and trombonist Robert Morgenthaler providing an exciting mix of freebop amid a sense of urgency, the musicians also underscore these vibrant activities with a lighthearted modus operandi along with their conspicuous attention to detail.
---
:: Copyright © (2015) by LeoRecords :: VAT-Id: GB505621965:: All external links are outside the responsability of LeoRecords :: We do not use cookies for collecting personal information from this site. :: Last script update 09-Sep-2017 :: webdesign by otolo.com :: Visit Leo Records Google Groups