LEO RECORDS Music for the Inquiring Mind and the Passionate Heart
CD catalogue: [All | Leo Records | Leo Lab | Golden Years of New Jazz | feetfirst records | Long Arms | DOMA] :: New releases: [2017/06, ../05, ../03, /02, 2016, ..15, 14, 13, 12, 11, 10, 0x, 199x]

Home | Artist list | Mail Orders | Distributors | Contact | Events & Links] :: About [Golden Years | LeoLab | Long Arms/Doma | feetfirst]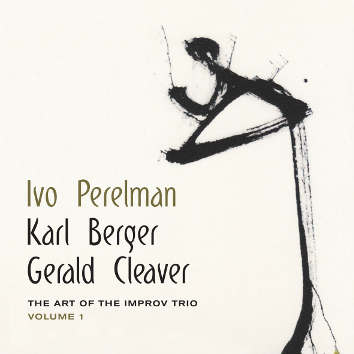 Two constant elements in this trio are Ivo Perelman and Gerald Cleaver, who is a variegated, hyper-intuitive, yet utterly grounded drummer whose association with Perelman dates to 2010, during which time he has supported and helped shape Perelman's most intrepid explorations. Says Ivo: "Gerald is such an incredibly flexible, adaptive drummer in that sense, he is better than I am in reacting to what's happening. That's his role; my role is to provoke the reactions." This is the third time Ivo recorded with Karl Berger who swapped his mallets to the grand Steinway. Read notes by Neil Tesser and Karl Berger.
---
:: Copyright © (2015) by LeoRecords :: VAT-Id: GB505621965:: All external links are outside the responsability of LeoRecords :: We do not use cookies for collecting personal information from this site. :: Last script update 14-Jun-2017 :: webdesign by otolo.com :: Visit Leo Records Google Groups