LEO RECORDS Music for the Inquiring Mind and the Passionate Heart
CD catalogue: [All | Leo Records | Leo Lab | Golden Years of New Jazz | feetfirst records | Long Arms | DOMA] :: New releases: [2017/09, ../06, ../05, ../03, /02, 2016, ..15, 14, 13, 12, 11, 10, 0x, 199x]

Home | Artist list | Mail Orders | Distributors | Contact | Events & Links] :: About [Golden Years | LeoLab | Long Arms/Doma | feetfirst]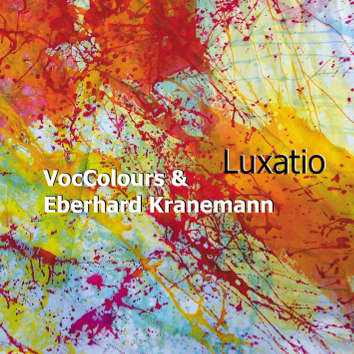 VocColours is a vocal quartet of four adventurers Brigitte Kupper, Gala Hummel, Norbert Zajac, Iouri Grankin. The first CD of VocColours (ZvuKlang) was recorded with the Russian pianists Alexey Lapin. For their second CD VocColours find a willing partner in Renaissance man Eberhard Kranemann and venture into whimsical territories uncharted by their previous album. Recorded live in Cologne, "Luxatio" packs enough wacky energy to crack your glass wall and infect you with the fragile beauty. Mount your elephant and run!
---
:: Copyright © (2015) by LeoRecords :: VAT-Id: GB505621965:: All external links are outside the responsability of LeoRecords :: We do not use cookies for collecting personal information from this site. :: Last script update 09-Sep-2017 :: webdesign by otolo.com :: Visit Leo Records Google Groups