LEO RECORDS Music for the Inquiring Mind and the Passionate Heart
CD catalogue: [All | Leo Records | Leo Lab | Golden Years of New Jazz | feetfirst records | Long Arms | DOMA] :: New releases: [2017/09, ../06, ../05, ../03, /02, 2016, ..15, 14, 13, 12, 11, 10, 0x, 199x]

Home | Artist list | Mail Orders | Distributors | Contact | Events & Links] :: About [Golden Years | LeoLab | Long Arms/Doma | feetfirst]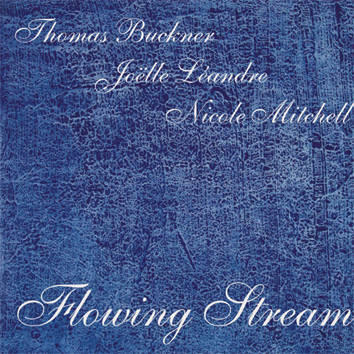 This CD is the result of the first meeting of Thomas Buckner (voice), Joelle Leandre (bass) and Nicole Mitchell (flute) at New York's Vision Festival in 2012. As Stuart Broomer writes in his liner notes, "Flowing Stream occupies that primal and illuminating musical ground that is most useful, where both our identity springs and where our hearing becomes most acute, where sound, consciousness and survival are invisibly entwined. It is the improvisation of the human community itself."
---
:: Copyright © (2015) by LeoRecords :: VAT-Id: GB505621965:: All external links are outside the responsability of LeoRecords :: We do not use cookies for collecting personal information from this site. :: Last script update 09-Sep-2017 :: webdesign by otolo.com :: Visit Leo Records Google Groups