LEO RECORDS Music for the Inquiring Mind and the Passionate Heart
CD catalogue: [All | Leo Records | Leo Lab | Golden Years of New Jazz | feetfirst records | Long Arms | DOMA] :: New releases: [2017/06, ../05, ../03, /02, 2016, ..15, 14, 13, 12, 11, 10, 0x, 199x]

Home | Artist list | Mail Orders | Distributors | Contact | Events & Links] :: About [Golden Years | LeoLab | Long Arms/Doma | feetfirst]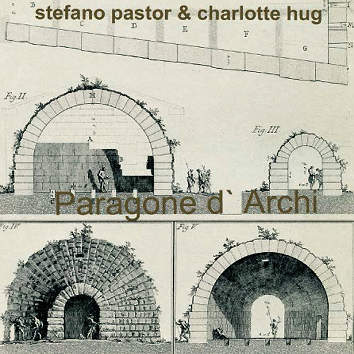 A spectacular debut by the masters of string instuments, the Swiss Charlotte Hug (viola & voice) and the Italian Stefano Pastor (violin). They bring their musical experience from very different backgrounds finding new common ground in this unique fusion of high energy, sensuality, austerity, polyphony, sublime melody and much more. This is a hybrid of new music and jazz by two artists who re-invented their own instruments, without any amplification or electronics.
---
:: Copyright © (2015) by LeoRecords :: VAT-Id: GB505621965:: All external links are outside the responsability of LeoRecords :: We do not use cookies for collecting personal information from this site. :: Last script update 14-Jun-2017 :: webdesign by otolo.com :: Visit Leo Records Google Groups