LEO RECORDS Music for the Inquiring Mind and the Passionate Heart
CD catalogue: [All | Leo Records | Leo Lab | Golden Years of New Jazz | feetfirst records | Long Arms | DOMA] :: New releases: [2017/09, ../06, ../05, ../03, /02, 2016, ..15, 14, 13, 12, 11, 10, 0x, 199x]

Home | Artist list | Mail Orders | Distributors | Contact | Events & Links] :: About [Golden Years | LeoLab | Long Arms/Doma | feetfirst]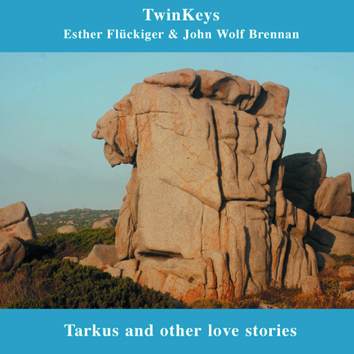 TwinKeys is a new project for two fine pianists, Esther Flückiger and John Wolf Brennan, but it's also a project that's deeply entwined with the special nature of the piano as a historical construct. The program presented contains 26 tracks in three large movements, each including arrangements of songs, original compositions or variations on themes, and improvisations. The melodic focus of the work derives from the songs, from "Larks' Tongues in Aspic," by King Crimson, "Tarkus" and "Jeremy Bender" by Keith Emerson, "Think of me with Kindness" by Gentle Giant and "I Know What I Like (in your Wardrobe)" by the members of Genesis. The very sound of the duo releases these songs from their time, placing it both within the history of the piano and its post-modern deconstructions.
---
:: Copyright © (2015) by LeoRecords :: VAT-Id: GB505621965:: All external links are outside the responsability of LeoRecords :: We do not use cookies for collecting personal information from this site. :: Last script update 09-Sep-2017 :: webdesign by otolo.com :: Visit Leo Records Google Groups