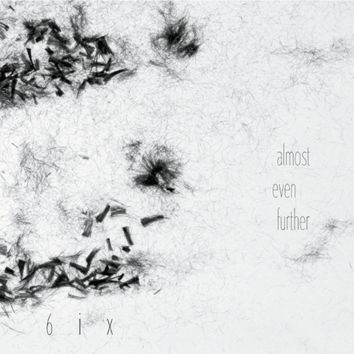 CD LR 644
-
LEO RECORDS
6 I X
Almost Even Further
Release date: 2012/06
"6ix" is a group of six musicians: Jacques Demierre on piano,
Urs Leimgruber
on saxophone, Okkyung Lee on cello,
Thomas Lehn
on synth, Dorothea Schurch voice and singing saw, and
Roger Turner
on percussion. The music is a subtle reminder of what each improvisation should strive for: explore a little bit further - almost even further - than the previous piece of music you played. When it seems impossible, try to give a little bit more. The music is an intimate and fascinating conversation between six musicians. To be engaged in the conversation one has not only to speak but listen as well. And this is a great art.
---
Top menu's More...: Releases by date: [Latest releases: 2023/02, 2022/10, ../05, ../04, 2021/09, ../06, /03, /01, 2020/09, ../06, /05, /03, 2019, ..18, 17, 16, 15, 14, 13, 12, 11, 10, 200x, 199x] :: Artist list :: Mail Orders :: Distributors :: Contact :: Events & Links :: Other Labels: [feetfirst records | Long Arms | DOMA] :: About [Golden Years | LeoLab | Long Arms/Doma | feetfirst] :: Home

Copyright © (2000-2022) by LeoRecords :: VAT-Id: GB505621965:: Attention: Clients outside UK will be charged sales tax, import tax, and handling charge which will usually be collected by the postal or delivery service. :: All external links are outside the responsability of LeoRecords :: General Privacy Policy: By using our website, you consent to the collection, processing and use of data as follows: Our website can be visited without registration. The data, such as the pages visited and/or names of the retrieved file, date, and time are stored on the server for statistical purposes. This data can not be directly related to your person. Also we do not use cookies for collecting personal information. Personal data, in particular name, address, and e-mail address that Paypal sends us for online orders are not shared with third parties without your consent. :: Last updated 19-Feb-2023 :: Visit and join Leo Records Google Groups