LEO RECORDS Music for the Inquiring Mind and the Passionate Heart
CD catalogue: [All | Leo Records | Leo Lab | Golden Years of New Jazz | feetfirst records | Long Arms | DOMA] :: New releases: [2017/09, ../06, ../05, ../03, /02, 2016, ..15, 14, 13, 12, 11, 10, 0x, 199x]

Home | Artist list | Mail Orders | Distributors | Contact | Events & Links] :: About [Golden Years | LeoLab | Long Arms/Doma | feetfirst]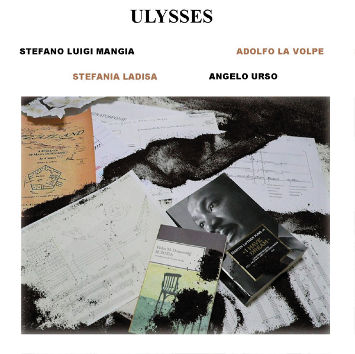 Stefano Mangia (voice, alto sax) and Adolfo La Volpe (guitars, harmonium, voice) unite to create a symbolic and utopian voyage taking Stefania Ladisa (violin, voice) and Angelo Urso (bass, voice) on this trip. On the way the musicians pay homage to their favourite Ulyssides: Demetrio Stratos, J.L.Borges, Leonardo da Vinci, Fyodor Dostoevsky, etc. Partly notated and partly improvised, Ulysses' mythological voyage has been the leitmotif lived first individually, intimately by each musician, and then shared in a common path.
---
:: Copyright © (2015) by LeoRecords :: VAT-Id: GB505621965:: All external links are outside the responsability of LeoRecords :: We do not use cookies for collecting personal information from this site. :: Last script update 09-Sep-2017 :: webdesign by otolo.com :: Visit Leo Records Google Groups