LEO RECORDS Music for the Inquiring Mind and the Passionate Heart
CD catalogue: [All | Leo Records | Leo Lab | Golden Years of New Jazz | feetfirst records | Long Arms | DOMA] :: New releases: [2017/06, ../05, ../03, /02, 2016, ..15, 14, 13, 12, 11, 10, 0x, 199x]

Home | Artist list | Mail Orders | Distributors | Contact | Events & Links] :: About [Golden Years | LeoLab | Long Arms/Doma | feetfirst]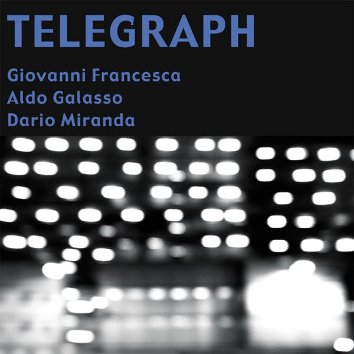 "Telegraph" is a trio formed by Giovanni Francesca (guitar and live electronics), Dario Miranda (bass, el-bass, kalimba, shruti box and live electronics) and Aldo Galasso (drums). The CD is the result of their ten-year collaboration. The music of the trio is hard to categorise, for it moves between rock, jazz, classical and experimental music all filtered through live electronics. These musicians are trying to find a more personal and aggressive sound while retaining the haunting quality of their music.
---
:: Copyright © (2015) by LeoRecords :: VAT-Id: GB505621965:: All external links are outside the responsability of LeoRecords :: We do not use cookies for collecting personal information from this site. :: Last script update 14-Jun-2017 :: webdesign by otolo.com :: Visit Leo Records Google Groups