LEO RECORDS Music for the Inquiring Mind and the Passionate Heart
CD catalogue: [All | Leo Records | Leo Lab | Golden Years of New Jazz | feetfirst records | Long Arms | DOMA] :: New releases: [2017/06, ../05, ../03, /02, 2016, ..15, 14, 13, 12, 11, 10, 0x, 199x]

Home | Artist list | Mail Orders | Distributors | Contact | Events & Links] :: About [Golden Years | LeoLab | Long Arms/Doma | feetfirst]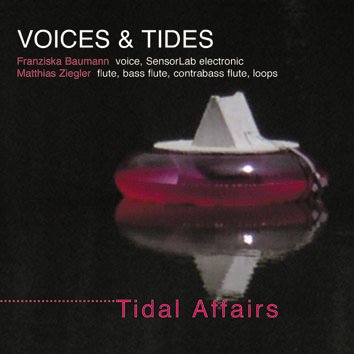 The second CD by the duo Voices " Tides (Franziska Baumann voice & SensoLab electronics, Matthias Ziegler flute, bass flute, contrabass flute, loops) explores new fields of improvised music in the context of live electronics. With her spectacular SensoLab device which is strapped to her right arm, Franziska and Matthias go far beyond the established genres and traditions of solo instruments. They achieve a sense of "solo polyphony", fragments of multilayered orchestration and colours. Their music is completely unpredictable and constantly surprising.
---
:: Copyright © (2015) by LeoRecords :: VAT-Id: GB505621965:: All external links are outside the responsability of LeoRecords :: We do not use cookies for collecting personal information from this site. :: Last script update 14-Jun-2017 :: webdesign by otolo.com :: Visit Leo Records Google Groups