LEO RECORDS Music for the Inquiring Mind and the Passionate Heart
CD catalogue: [All | Leo Records | Leo Lab | Golden Years of New Jazz | feetfirst records | Long Arms | DOMA] :: New releases: [2017/05, ../03, /02, 2016, ..15, 14, 13, 12, 11, 10, 0x, 199x]

Home | Artist list | Mail Orders | Distributors | Contact | Events & Links] :: About [Golden Years | LeoLab | Long Arms/Doma | feetfirst]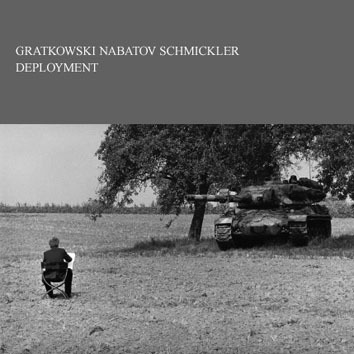 The household names of Leo Records Frank Gratkowsi (alto sax, clarinets) and Simon Nabatov (piano) have been joined in the studio by Marcus Schmickler (computer). It's not for nothing you see the tank on the front cover, and it's not for nothing the CD is called "Deployment." They start with small sounds (reconnaissance) and finish with a real war (heavy artillery bombardment).
---
:: Copyright © (2015) by LeoRecords :: VAT-Id: GB505621965:: All external links are outside the responsability of LeoRecords :: We do not use cookies for collecting personal information from this site. :: Last script update 19-May-2017 :: webdesign by otolo.com :: Visit Leo Records Google Groups