LEO RECORDS Music for the Inquiring Mind and the Passionate Heart
CD catalogue: [All | Leo Records | Leo Lab | Golden Years of New Jazz | feetfirst records | Long Arms | DOMA] :: New releases: [2017/09, ../06, ../05, ../03, /02, 2016, ..15, 14, 13, 12, 11, 10, 0x, 199x]

Home | Artist list | Mail Orders | Distributors | Contact | Events & Links] :: About [Golden Years | LeoLab | Long Arms/Doma | feetfirst]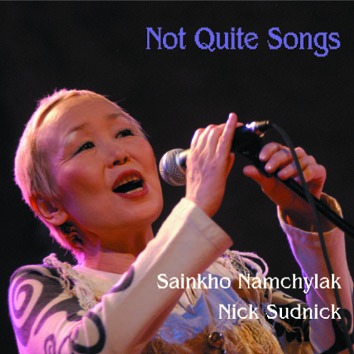 Nick Sudnick, the leader of the legendary Soviet avant group ZGA, is famous for constructing his own and totally unique musical instruments. Since his instruments have no name, in the booklet we tried to make a photo of him playing his "sound objects." Needless to say, Nick's unorthodox sounds created a challenge for Sainkho. As a truly outstanding artist, she rises for the occasion and responds to the challenge in a totally original way. We don't know any singer on this entire planet who can do with her voice what Sainkho does with hers.
---
:: Copyright © (2015) by LeoRecords :: VAT-Id: GB505621965:: All external links are outside the responsability of LeoRecords :: We do not use cookies for collecting personal information from this site. :: Last script update 09-Sep-2017 :: webdesign by otolo.com :: Visit Leo Records Google Groups