LEO RECORDS Music for the Inquiring Mind and the Passionate Heart
CD catalogue: [All | Leo Records | Leo Lab | Golden Years of New Jazz | feetfirst records | Long Arms | DOMA] :: New releases: [2017/09, ../06, ../05, ../03, /02, 2016, ..15, 14, 13, 12, 11, 10, 0x, 199x]

Home | Artist list | Mail Orders | Distributors | Contact | Events & Links] :: About [Golden Years | LeoLab | Long Arms/Doma | feetfirst]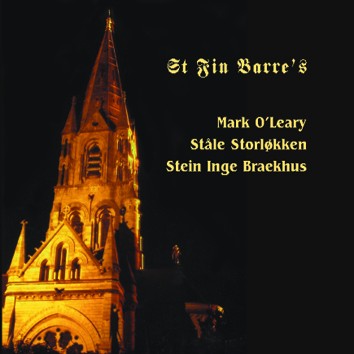 It's the tenth CD by Mark O'Leary on Leo Records and a new departure. It's been recorded in the magnificient Cork's Cathedral St. Fin Barre's. Mark chose his partners very carefully. The church organist Stale Storlokken is a member of Norwegian cult band Supersilent as well as member of Terje Rypdal's trio. Stein Inge Braekhus is a sensitive drummer who works with subtle nuances and dynamic breaks of tension. Although it was recorded in 2002 it marks yet another phase in Mark's recorded journey. Liner notes by Steve Day.
Here's an additional sound sample: Listen to the Cork's Cathedral St. Fin Barre's bells.
---
:: Copyright © (2015) by LeoRecords :: VAT-Id: GB505621965:: All external links are outside the responsability of LeoRecords :: We do not use cookies for collecting personal information from this site. :: Last script update 09-Sep-2017 :: webdesign by otolo.com :: Visit Leo Records Google Groups