LEO RECORDS Music for the Inquiring Mind and the Passionate Heart
CD catalogue: [All | Leo Records | Leo Lab | Golden Years of New Jazz | feetfirst records | Long Arms | DOMA] :: New releases: [2017/09, ../06, ../05, ../03, /02, 2016, ..15, 14, 13, 12, 11, 10, 0x, 199x]

Home | Artist list | Mail Orders | Distributors | Contact | Events & Links] :: About [Golden Years | LeoLab | Long Arms/Doma | feetfirst]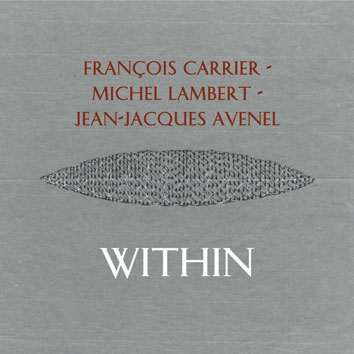 "You can hear François Carrier's joy in this recording, using mouthpiece calls, interrupting a bass passage with a biting phrase, reacting to Avenel's use of the kalimba, or leading the three-way conversations between the musicians with wit and aplomb. His joy is communicative, and spreads to the ensemble sound. Michel Lambert - playing with time, timbre and intensity, never locked in a pattern - pushes the improvisations forward. As for Jean-Jacques Avenel, one would never guess the bass master is a guest here, but instead was always meant to play with Carrier and Lambert, since his huge sound, agile runs and unfailing imagination provide the perfect cement for the trio."
---
:: Copyright © (2015) by LeoRecords :: VAT-Id: GB505621965:: All external links are outside the responsability of LeoRecords :: We do not use cookies for collecting personal information from this site. :: Last script update 09-Sep-2017 :: webdesign by otolo.com :: Visit Leo Records Google Groups