LEO RECORDS Music for the Inquiring Mind and the Passionate Heart
CD catalogue: [All | Leo Records | Leo Lab | Golden Years of New Jazz | feetfirst records | Long Arms | DOMA] :: New releases: [2017/09, ../06, ../05, ../03, /02, 2016, ..15, 14, 13, 12, 11, 10, 0x, 199x]

Home | Artist list | Mail Orders | Distributors | Contact | Events & Links] :: About [Golden Years | LeoLab | Long Arms/Doma | feetfirst]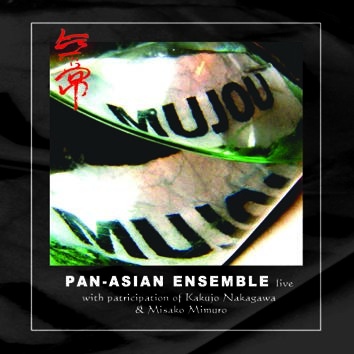 One of a very few truly amazing CDs in the entire Leo Records' catalogue. Recorded in Moscow, Pan-Asian ensemble is led by Georgy Mnatsakanov (shakuhachi) and Dmitry Kalinin (shakuhachi, hichiriki, Chinese gong-chimes and voice). The ensemble is augmented by Varvara Sidorova, Kakujo Nakagawa and Misako Mimuro (all three on biwas) and Pyotr Nikulin on dijeridu and Dmitry Schyolkin on percussion. The leaders studied with great Japanese teachers. Amazingly, the Russians try to create new music based directly on Japanese musical traditions and its aesthetic principles without distorting European composing techniques. Amazingly, they manage to create something truly original.
---
:: Copyright © (2015) by LeoRecords :: VAT-Id: GB505621965:: All external links are outside the responsability of LeoRecords :: We do not use cookies for collecting personal information from this site. :: Last script update 09-Sep-2017 :: webdesign by otolo.com :: Visit Leo Records Google Groups