LEO RECORDS Music for the Inquiring Mind and the Passionate Heart
CD catalogue: [All | Leo Records | Leo Lab | Golden Years of New Jazz | feetfirst records | Long Arms | DOMA] :: New releases: [2017/09, ../06, ../05, ../03, /02, 2016, ..15, 14, 13, 12, 11, 10, 0x, 199x]

Home | Artist list | Mail Orders | Distributors | Contact | Events & Links] :: About [Golden Years | LeoLab | Long Arms/Doma | feetfirst]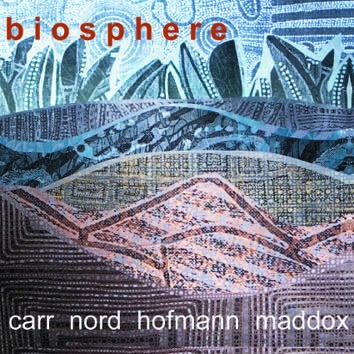 The second release by the same group from Oregon, USA, continuing their exploration of unchartered territories between jazz and free improvisation. Richard Carr - violin, viola, Mike Nord - guitars and electronics, Georg Hofmann - drums / percussion, Art Maddox - piano. As on the first release, the band infuses the spirit of jazz into an improvised music that moves beyond stylistic labels to a place that is liberating to both musicians and audiences alike. In their statement musicians express the hope that the listeners will find their music to be meaningful, emotionally evocative and thought provoking.
Total duration 67'00"
---
:: Copyright © (2015) by LeoRecords :: VAT-Id: GB505621965:: All external links are outside the responsability of LeoRecords :: We do not use cookies for collecting personal information from this site. :: Last script update 09-Sep-2017 :: webdesign by otolo.com :: Visit Leo Records Google Groups