LEO RECORDS Music for the Inquiring Mind and the Passionate Heart
CD catalogue: [All | Leo Records | Leo Lab | Golden Years of New Jazz | feetfirst records | Long Arms | DOMA] :: New releases: [2017/09, ../06, ../05, ../03, /02, 2016, ..15, 14, 13, 12, 11, 10, 0x, 199x]

Home | Artist list | Mail Orders | Distributors | Contact | Events & Links] :: About [Golden Years | LeoLab | Long Arms/Doma | feetfirst]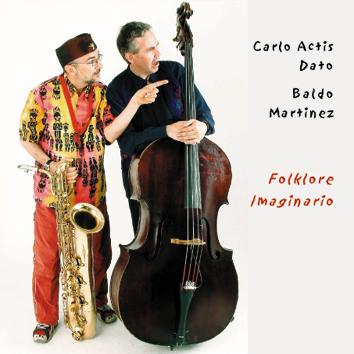 There is no limit to the imagination of Carlo Actis Dato, one of the best saxophonists in Europe, and just about the only European saxophonis featured in the American jazz critics polls. This time Carlo Actis Dato comes up with a new concept realized with his long time partner, a brilliant conceptualist, composer and bass player from Spain, Baldo Martinez. The title of the CD speaks for itself, the music being a hot mix of ethnic sounds presented in the context of jazz improvisation.
---
:: Copyright © (2015) by LeoRecords :: VAT-Id: GB505621965:: All external links are outside the responsability of LeoRecords :: We do not use cookies for collecting personal information from this site. :: Last script update 09-Sep-2017 :: webdesign by otolo.com :: Visit Leo Records Google Groups