LEO RECORDS Music for the Inquiring Mind and the Passionate Heart
CD catalogue: [All | Leo Records | Leo Lab | Golden Years of New Jazz | feetfirst records | Long Arms | DOMA] :: New releases: [2017/09, ../06, ../05, ../03, /02, 2016, ..15, 14, 13, 12, 11, 10, 0x, 199x]

Home | Artist list | Mail Orders | Distributors | Contact | Events & Links] :: About [Golden Years | LeoLab | Long Arms/Doma | feetfirst]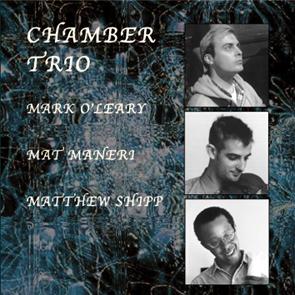 Mark O'Leary, Matt Shipp and Mat Maneri came together to try to emulate the dynamic texture of the chamber trio. Being students of Charles Ives, this was the common fibre which molded this musical fabric together. Shipp's strong piano individualism juxtaposed with Maneri's sensuous Viola and O'Leary's electric guitar helped the music proceed along a jaunty, jagged new musical path. Mark O'Leary: "There was an implicit, organic telepathy at each stage of our recording.The aesthetic which we strove for in our collective minds and hearts was for sure how you will hear it in a chamber trio."
---
:: Copyright © (2015) by LeoRecords :: VAT-Id: GB505621965:: All external links are outside the responsability of LeoRecords :: We do not use cookies for collecting personal information from this site. :: Last script update 09-Sep-2017 :: webdesign by otolo.com :: Visit Leo Records Google Groups