LEO RECORDS Music for the Inquiring Mind and the Passionate Heart
CD catalogue: [All | Leo Records | Leo Lab | Golden Years of New Jazz | feetfirst records | Long Arms | DOMA] :: New releases: [2017/09, ../06, ../05, ../03, /02, 2016, ..15, 14, 13, 12, 11, 10, 0x, 199x]

Home | Artist list | Mail Orders | Distributors | Contact | Events & Links] :: About [Golden Years | LeoLab | Long Arms/Doma | feetfirst]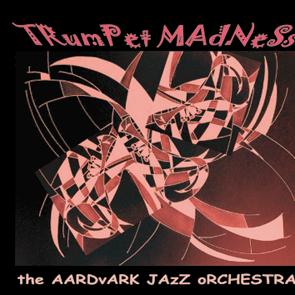 This is the fourth CD in Leo Records catalogue by The Aardvark Jazz Orchestra led by the composer, arranger, conductor and trumpeter Mark Harvey. Trumpet Madness displays the unique and disparate sounds of several wonderful trumpeters woven into the fabric of multi-stylistic orchestral compositions. Recorded in live performance, these compositions present the band's commitment to spontaneous creation within complex structures. Mark Harvey's approach to blending the solo, collective, and conducted improvisation of 28 talented players has been developed to a high level of intuitive and expressive virtuosity.
---
:: Copyright © (2015) by LeoRecords :: VAT-Id: GB505621965:: All external links are outside the responsability of LeoRecords :: We do not use cookies for collecting personal information from this site. :: Last script update 09-Sep-2017 :: webdesign by otolo.com :: Visit Leo Records Google Groups