LEO RECORDS Music for the Inquiring Mind and the Passionate Heart
CD catalogue: [All | Leo Records | Leo Lab | Golden Years of New Jazz | feetfirst records | Long Arms | DOMA] :: New releases: [2017/09, ../06, ../05, ../03, /02, 2016, ..15, 14, 13, 12, 11, 10, 0x, 199x]

Home | Artist list | Mail Orders | Distributors | Contact | Events & Links] :: About [Golden Years | LeoLab | Long Arms/Doma | feetfirst]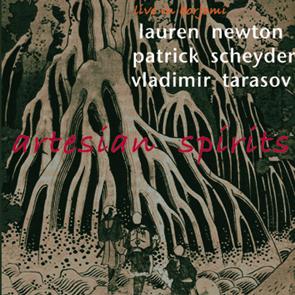 Lauren Newton - voice, Patrick Schheyder -piano, Vladimir Tarasov - drums. All three are regular recording artists for Leo Records. This performance was recorded live in Georgia, one of the former Republics of the Soviet Union, which gained independence in mid-'90s. It would be fair to say that the people of Georgia don't have a chance to listen to improvised music every day, yet judging by their reaction all of them without exception were utterly convinced. Storm of aplause after each piece of music and endless demands of an encore.
---
:: Copyright © (2015) by LeoRecords :: VAT-Id: GB505621965:: All external links are outside the responsability of LeoRecords :: We do not use cookies for collecting personal information from this site. :: Last script update 09-Sep-2017 :: webdesign by otolo.com :: Visit Leo Records Google Groups