LEO RECORDS Music for the Inquiring Mind and the Passionate Heart
CD catalogue: [All | Leo Records | Leo Lab | Golden Years of New Jazz | feetfirst records | Long Arms | DOMA] :: New releases: [2017/09, ../06, ../05, ../03, /02, 2016, ..15, 14, 13, 12, 11, 10, 0x, 199x]

Home | Artist list | Mail Orders | Distributors | Contact | Events & Links] :: About [Golden Years | LeoLab | Long Arms/Doma | feetfirst]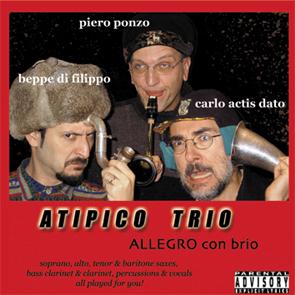 Baritone sax, bass clarinets, alto saxes, piccolo, soprano, and tenor sax. Satirical, serious, undefinable, ironic, meticulous, contemporary, futuristic, dated, impassioned, outrageous - these are just some of the adjectives used by international press to describe the spirit of the trio. The sonic universe which the Atipico Trio navigates knows no frontiers. You need neither passports nor visas to travel with them from the Caribbean to the Middle East, from Africa to the Balkans, from North America to Japan.
---
:: Copyright © (2015) by LeoRecords :: VAT-Id: GB505621965:: All external links are outside the responsability of LeoRecords :: We do not use cookies for collecting personal information from this site. :: Last script update 09-Sep-2017 :: webdesign by otolo.com :: Visit Leo Records Google Groups