LEO RECORDS Music for the Inquiring Mind and the Passionate Heart
CD catalogue: [All | Leo Records | Leo Lab | Golden Years of New Jazz | feetfirst records | Long Arms | DOMA] :: New releases: [2017/06, ../05, ../03, /02, 2016, ..15, 14, 13, 12, 11, 10, 0x, 199x]

Home | Artist list | Mail Orders | Distributors | Contact | Events & Links] :: About [Golden Years | LeoLab | Long Arms/Doma | feetfirst]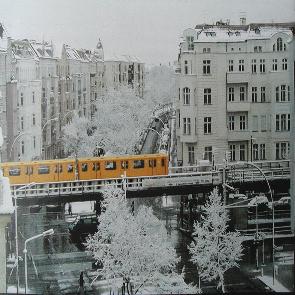 A rare collaboration between a classical composer and a jazz/improv drummer. Arnal and Eichmann belong to a new generation of musicians and are definitely counted amongst the most versatile personalities in contemporary avant-garde music. This exciting encounter brings into being a unique dimension of music with fresh sounds of existential beauty. Their spontaneous improvisations tend to emerge as structures. Sometimes tense, sometimes dark and even disturbing, their music is always gripping.
Recorded on December 6, 2002, at Hans-Rosbaud-Studio, Baden-Baden, Germany.
Liner notes by John 'Sugar Daddy' Rottiers, presenter Radio Centraal Antwerpen, December 2003.
Total time: 62'33
---
:: Copyright © (2015) by LeoRecords :: VAT-Id: GB505621965:: All external links are outside the responsability of LeoRecords :: We do not use cookies for collecting personal information from this site. :: Last script update 14-Jun-2017 :: webdesign by otolo.com :: Visit Leo Records Google Groups