LEO RECORDS Music for the Inquiring Mind and the Passionate Heart
CD catalogue: [All | Leo Records | Leo Lab | Golden Years of New Jazz | feetfirst records | Long Arms | DOMA] :: New releases: [2017/06, ../05, ../03, /02, 2016, ..15, 14, 13, 12, 11, 10, 0x, 199x]

Home | Artist list | Mail Orders | Distributors | Contact | Events & Links] :: About [Golden Years | LeoLab | Long Arms/Doma | feetfirst]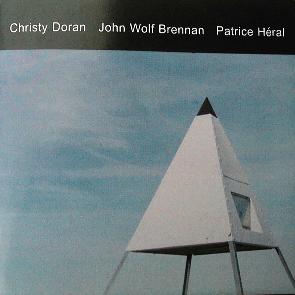 It's been almost ten years since the release of the first recording by Irish-born Swiss-residing Christy Doran and John Wolf Brennan (Leo Lab 015 Henceforward) which explored their Irish roots and many varied paths they have taken since. On this recording they are joined by the French percussion shaman Patrick Heral, a veteran of many leading European groups, including the Vienna Art Orchestra and ensembles with Mark Stockhausen. The three virtuosi triangulate among genres, moods, pacing, attack and pause, throwing into the pot their huge experiences of playing jazz, rock, and new music.
Recorded August 24, 2003 at Hardstudio Winterthur, Switzerland by Moritz Wetter.
Total time: 68'48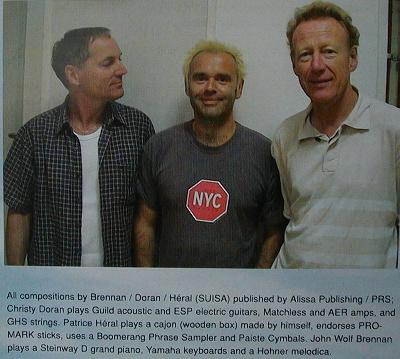 ---
:: Copyright © (2015) by LeoRecords :: VAT-Id: GB505621965:: All external links are outside the responsability of LeoRecords :: We do not use cookies for collecting personal information from this site. :: Last script update 14-Jun-2017 :: webdesign by otolo.com :: Visit Leo Records Google Groups