LEO RECORDS Music for the Inquiring Mind and the Passionate Heart
CD catalogue: [All | Leo Records | Leo Lab | Golden Years of New Jazz | feetfirst records | Long Arms | DOMA] :: New releases: [2017/05, ../03, /02, 2016, ..15, 14, 13, 12, 11, 10, 0x, 199x]

Home | Artist list | Mail Orders | Distributors | Contact | Events & Links] :: About [Golden Years | LeoLab | Long Arms/Doma | feetfirst]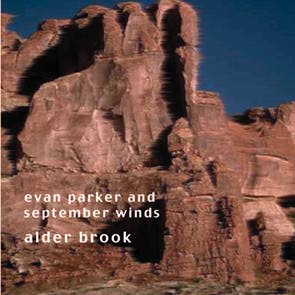 A remarkable recording launching collaboration between Evan Parker and September Winds, a group of four Swiss musicians playing wind instruments: Peter A. Schmid - bass & contrabass clarinet, contrabass saxophone (tubax), taragot; Hans Anliker - trombone; Jurg Solothurnmann - alto & soprano saxophones; Reto Senn - clarinet & bass clarinet, taragot. Evan Parker plays soprano and tenor saxophones, as well as a new instrument tubax developed by instrument builder Benedikt Eppelsheim. The recording is an incredible sonic adventure permiated with " profound sense of balance, the ferment and poise that both generate and sustain the music" (Stuart Broomer). Total time over 70 minutes. Notes by Stuart Broomer.
Track list:
Poclabacla I (Anliker, Schmid, Senn) - 4'38
Seesicht - 7'52
Sagstrio (Parker, Schmid, Soloturnmann) - 7'21
Z'blau wunder us Jenins - 11'22
Nepente di oliena - 7'09
Cinghiali (Parker. Schmid) - 5'41
Fletri - 7'28
Pinot Gris - 7'14
Klappe' - 4'40
Garanoir - 5'22
Poclabacla II (Anliker, Schmid, Senn) - 2'35
---
:: Copyright © (2015) by LeoRecords :: VAT-Id: GB505621965:: All external links are outside the responsability of LeoRecords :: We do not use cookies for collecting personal information from this site. :: Last script update 19-May-2017 :: webdesign by otolo.com :: Visit Leo Records Google Groups