LEO RECORDS Music for the Inquiring Mind and the Passionate Heart
CD catalogue: [All | Leo Records | Leo Lab | Golden Years of New Jazz | feetfirst records | Long Arms | DOMA] :: New releases: [2017/06, ../05, ../03, /02, 2016, ..15, 14, 13, 12, 11, 10, 0x, 199x]

Home | Artist list | Mail Orders | Distributors | Contact | Events & Links] :: About [Golden Years | LeoLab | Long Arms/Doma | feetfirst]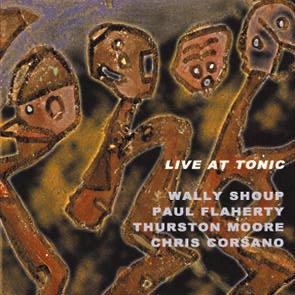 Wally Shoup is here again, but the line-up is different: Paul Flaherty on tenor and alto sax, Thurston Moore (of Sonic Youth fame) on guitar, Chris Corsano on drums. As Dan Warburton writes: "It is only just that this magnificent work should find itself on the venerable Leo label, and I for one can't wait to hear more of it, especially now that the likes of Matt Shipp, William Parker and David Ware are sliding progressively back towards orthodoxy... It's good to know there's still somebody on the edge willing to come back and remind us what it's like out there." Recorded live at Tonic, New York, to the ecstatic reception of the crowd. Duration: 73'05.
---
:: Copyright © (2015) by LeoRecords :: VAT-Id: GB505621965:: All external links are outside the responsability of LeoRecords :: We do not use cookies for collecting personal information from this site. :: Last script update 14-Jun-2017 :: webdesign by otolo.com :: Visit Leo Records Google Groups