LEO RECORDS Music for the Inquiring Mind and the Passionate Heart
CD catalogue: [All | Leo Records | Leo Lab | Golden Years of New Jazz | feetfirst records | Long Arms | DOMA] :: New releases: [2017/09, ../06, ../05, ../03, /02, 2016, ..15, 14, 13, 12, 11, 10, 0x, 199x]

Home | Artist list | Mail Orders | Distributors | Contact | Events & Links] :: About [Golden Years | LeoLab | Long Arms/Doma | feetfirst]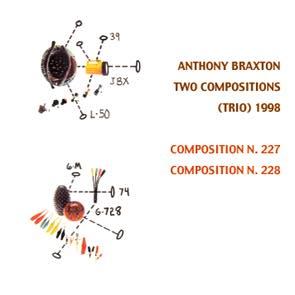 A double CD which continues to explore Ghost Trance Music series devised by Anthony Braxton. Composition N. 227 is performed by Chris Jonas (soprano, alto, tenor saxophones), David Novak (bassoon, contrabassoon, etc), Anthony Braxton (alto, F-alto saxophones, clarinet, flute). Composition N. 228 is performed by Jackson Moore (clarinet, alto & baritone saxophones), Seth Misterka (alto, baritone saxophones), Anthony Braxton (bass, contrabass saxophones, contrabass clarinet). As Steve Day writes in his liner notes, Anthony Braxton "has gathered a new, younger generation of saxophone players around him. Together this "new collective" has been responsible for another set of post-Wesleyan classic recordings..."
---
:: Copyright © (2015) by LeoRecords :: VAT-Id: GB505621965:: All external links are outside the responsability of LeoRecords :: We do not use cookies for collecting personal information from this site. :: Last script update 09-Sep-2017 :: webdesign by otolo.com :: Visit Leo Records Google Groups