LEO RECORDS Music for the Inquiring Mind and the Passionate Heart
CD catalogue: [All | Leo Records | Leo Lab | Golden Years of New Jazz | feetfirst records | Long Arms | DOMA] :: New releases: [2017/09, ../06, ../05, ../03, /02, 2016, ..15, 14, 13, 12, 11, 10, 0x, 199x]

Home | Artist list | Mail Orders | Distributors | Contact | Events & Links] :: About [Golden Years | LeoLab | Long Arms/Doma | feetfirst]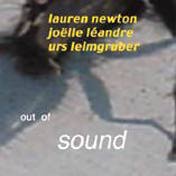 This CD has been in the making for a long time. Everything should have been right: the ambience, the mood, the sound, the studio, etc. And at last it happened. As Francesco Martinelli writes in his notes, "They will burn junk music away from your ears, tear apart your idea of music and rebuild it again in a different shape...Thanks to Lauren, Joelle and Urs for giving us a chance to accompany them in their quest, and for setting us on our own."
---
:: Copyright © (2015) by LeoRecords :: VAT-Id: GB505621965:: All external links are outside the responsability of LeoRecords :: We do not use cookies for collecting personal information from this site. :: Last script update 09-Sep-2017 :: webdesign by otolo.com :: Visit Leo Records Google Groups