LEO RECORDS Music for the Inquiring Mind and the Passionate Heart
CD catalogue: [All | Leo Records | Leo Lab | Golden Years of New Jazz | feetfirst records | Long Arms | DOMA] :: New releases: [2017/09, ../06, ../05, ../03, /02, 2016, ..15, 14, 13, 12, 11, 10, 0x, 199x]

Home | Artist list | Mail Orders | Distributors | Contact | Events & Links] :: About [Golden Years | LeoLab | Long Arms/Doma | feetfirst]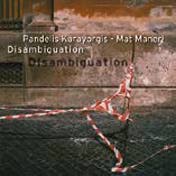 Mat Maneri and Pandelis Karayorgis lead a quintet featuring an impressive line-up of some of the most creative musicians working in New York today, Tony Malaby on tenor sax, Michael Formanek on bass and Randy Peterson on drums. In the liner notes Kevin Whitehead writes: " 'Disambiguation' succeeds on that rarefied level where compositions, orchestration, improvising strategies and individual talents all work toward a unified effect. - This is what jazz should be like at the dawn of its second century: deft and complex without making a big fuss over either quality."
---
:: Copyright © (2015) by LeoRecords :: VAT-Id: GB505621965:: All external links are outside the responsability of LeoRecords :: We do not use cookies for collecting personal information from this site. :: Last script update 09-Sep-2017 :: webdesign by otolo.com :: Visit Leo Records Google Groups