LEO RECORDS Music for the Inquiring Mind and the Passionate Heart
CD catalogue: [All | Leo Records | Leo Lab | Golden Years of New Jazz | feetfirst records | Long Arms | DOMA] :: New releases: [2017/09, ../06, ../05, ../03, /02, 2016, ..15, 14, 13, 12, 11, 10, 0x, 199x]

Home | Artist list | Mail Orders | Distributors | Contact | Events & Links] :: About [Golden Years | LeoLab | Long Arms/Doma | feetfirst]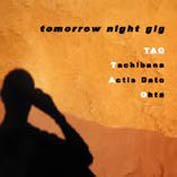 With one ear tuned to the street and the other tipped toward his fanciful imagination, Carlo Actis Dato creates a musical universe of disjunctions and jump-cuts while recording live with two Japanese musicians he met in 1999 - the remarkable bassist Yasuhiko Tachibana and violinist and vocalist Keisuke Ohta. Given the empathy and response time between the three, it is only appropriate that the first letters of their last names spell TAO. This 70-minute long CD is suplemented by the notes of the Down Beat writer Paul de Barros.
---
:: Copyright © (2015) by LeoRecords :: VAT-Id: GB505621965:: All external links are outside the responsability of LeoRecords :: We do not use cookies for collecting personal information from this site. :: Last script update 09-Sep-2017 :: webdesign by otolo.com :: Visit Leo Records Google Groups