LEO RECORDS Music for the Inquiring Mind and the Passionate Heart
CD catalogue: [All | Leo Records | Leo Lab | Golden Years of New Jazz | feetfirst records | Long Arms | DOMA] :: New releases: [2017/06, ../05, ../03, /02, 2016, ..15, 14, 13, 12, 11, 10, 0x, 199x]

Home | Artist list | Mail Orders | Distributors | Contact | Events & Links] :: About [Golden Years | LeoLab | Long Arms/Doma | feetfirst]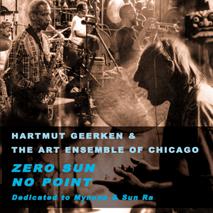 A double CD documenting both the live performance at Munich's Marstall Theatre and broadcast by Bayerischer Rundfunk. Based on two radio plays "Zero Sun" and "No Point" by Hartmut Geerken, this incredibly complex performance involves pre-recorded texts/voices of Sun Ra, Salomo Friedlaender/Mynona, Amiri Baraka, Ezra Pound, etc., incorporated into the Art Ensemble of Chicago's music which happened to be the last recording of the late Lester Bowie. The project represents the realization of an old dream: one of the world's largest gong collection of Hartmut Geerken and Famoudou Don Moye's "sun percussion" collection brought together on stage for the first time. On top of that, it was an intermedia project whereby the audience from all over the world could take part in the performance through the internet. 28-page booklet full of texts, notes and brilliant photos of the performance. Unprecedented project documented on an unprecedented double CD.
---
:: Copyright © (2015) by LeoRecords :: VAT-Id: GB505621965:: All external links are outside the responsability of LeoRecords :: We do not use cookies for collecting personal information from this site. :: Last script update 14-Jun-2017 :: webdesign by otolo.com :: Visit Leo Records Google Groups