LEO RECORDS Music for the Inquiring Mind and the Passionate Heart
CD catalogue: [All | Leo Records | Leo Lab | Golden Years of New Jazz | feetfirst records | Long Arms | DOMA] :: New releases: [2017/06, ../05, ../03, /02, 2016, ..15, 14, 13, 12, 11, 10, 0x, 199x]

Home | Artist list | Mail Orders | Distributors | Contact | Events & Links] :: About [Golden Years | LeoLab | Long Arms/Doma | feetfirst]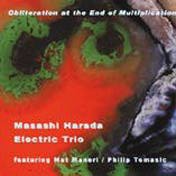 Masashi Harada (percussion, voice), Mat Maneri (electric baritone violin) and Philip Tomasic (electric guitar) have performed as a trio for several years. This is their first CD recorded by Mat Maneri in 1998. However, one should not be misled by the numbers, for Masashi first met Mat Maneri in 1986 when Mat was 16 and Masashi 24. As Masashi writes in his liner notes on technique in generative improvisation, "Mat and I breathed together musically for a number of years." Small wonder then, that their CD sounds like nothing you have heard before.
---
:: Copyright © (2015) by LeoRecords :: VAT-Id: GB505621965:: All external links are outside the responsability of LeoRecords :: We do not use cookies for collecting personal information from this site. :: Last script update 14-Jun-2017 :: webdesign by otolo.com :: Visit Leo Records Google Groups