LEO RECORDS Music for the Inquiring Mind and the Passionate Heart
CD catalogue: [All | Leo Records | Leo Lab | Golden Years of New Jazz | feetfirst records | Long Arms | DOMA] :: New releases: [2017/09, ../06, ../05, ../03, /02, 2016, ..15, 14, 13, 12, 11, 10, 0x, 199x]

Home | Artist list | Mail Orders | Distributors | Contact | Events & Links] :: About [Golden Years | LeoLab | Long Arms/Doma | feetfirst]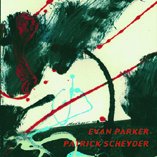 How has such an encounter been possible? The French piano player Patrick Scheyder is known as an interpreter of Chopin and a promoter of a festival of classical music. As Philippe Renaud writes in his liner notes: "Here, something magic happens...The more I listen to this record, the more I remember the improbable concert (the announced marriage between Coltrane and Chopin)..." And what about Evan Parker? Well, Evan is at the pinnacle of his musical development and we are very lucky to be able to hear his music.
---
:: Copyright © (2015) by LeoRecords :: VAT-Id: GB505621965:: All external links are outside the responsability of LeoRecords :: We do not use cookies for collecting personal information from this site. :: Last script update 09-Sep-2017 :: webdesign by otolo.com :: Visit Leo Records Google Groups