LEO RECORDS Music for the Inquiring Mind and the Passionate Heart
CD catalogue: [All | Leo Records | Leo Lab | Golden Years of New Jazz | feetfirst records | Long Arms | DOMA] :: New releases: [2017/09, ../06, ../05, ../03, /02, 2016, ..15, 14, 13, 12, 11, 10, 0x, 199x]

Home | Artist list | Mail Orders | Distributors | Contact | Events & Links] :: About [Golden Years | LeoLab | Long Arms/Doma | feetfirst]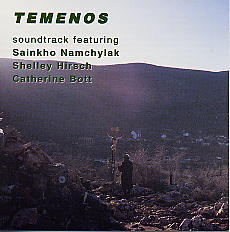 Temenos, a film by Nina Danino, is a metaphysical thriller.
The title means sacred site; and refers to the places around Europe where the Virgin is said to have appeared, or said to be still appearing.
Don't be misled. This music is not about pretty songs or moodish ambient electronica.
Prepare yourself for the most amazing sounds from three most amazing voices, with Sainkho delivering her famous over and undertones, and cries of both ecstasy and terror.
The total time is 63'20
---
:: Copyright © (2015) by LeoRecords :: VAT-Id: GB505621965:: All external links are outside the responsability of LeoRecords :: We do not use cookies for collecting personal information from this site. :: Last script update 09-Sep-2017 :: webdesign by otolo.com :: Visit Leo Records Google Groups