LEO RECORDS Music for the Inquiring Mind and the Passionate Heart
CD catalogue: [All | Leo Records | Leo Lab | Golden Years of New Jazz | feetfirst records | Long Arms | DOMA] :: New releases: [2017/03, ../02, 2016, ..15, 14, 13, 12, 11, 10, 0x, 199x]

Home | Artist list | Mail Orders | Distributors | Contact | Events & Links] :: About [Golden Years | LeoLab | Long Arms/Doma | feetfirst]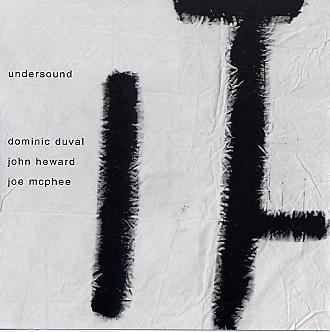 Dominic Duval bass; John Heward drums, kalimba, voice; Joe McPhee soprano saxophone.
The concept of this CD lays in the title - undersound being synonymous to understatement.
This recording finds Dominic Duval with yet another set of musicians; however, having been on the road for quite some time, the trio have achieved a unique level of togetherness in bringing out their concept.
The total time is 59'52
---
:: Copyright © (2015) by LeoRecords :: VAT-Id: GB505621965:: All external links are outside the responsability of LeoRecords :: We do not use cookies for collecting personal information from this site. :: Last script update 02-Mar-2017 :: webdesign by otolo.com :: Visit Leo Records Google Groups