LEO RECORDS Music for the Inquiring Mind and the Passionate Heart
CD catalogue: [All | Leo Records | Leo Lab | Golden Years of New Jazz | feetfirst records | Long Arms | DOMA] :: New releases: [2017/06, ../05, ../03, /02, 2016, ..15, 14, 13, 12, 11, 10, 0x, 199x]

Home | Artist list | Mail Orders | Distributors | Contact | Events & Links] :: About [Golden Years | LeoLab | Long Arms/Doma | feetfirst]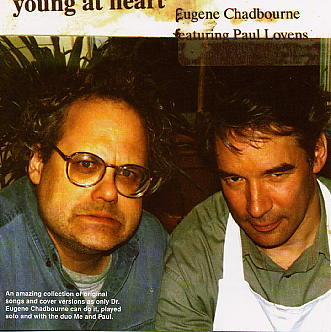 This, a double CD, comprising an amazing collection of original songs and cover versions (as only Dr. Eugene Chadbourne can do it) is played solo and with the duo "Me and Paul."
Some songs alternate with the so-called "celebrity freakouts" - recordings of celebrities used without their permission, but with heartfelt acknowledgement of their wonderful genius and right to blow off steam whenever they see fit!" (Eugene Chadbourne).
There is a distinct possibility that (against our will) these CDs will shoot to the "Top Ten" charts straight away and will stay there forever.
Total times are: CD1 - 69'16 and CD2 - 65'07
---
:: Copyright © (2015) by LeoRecords :: VAT-Id: GB505621965:: All external links are outside the responsability of LeoRecords :: We do not use cookies for collecting personal information from this site. :: Last script update 14-Jun-2017 :: webdesign by otolo.com :: Visit Leo Records Google Groups