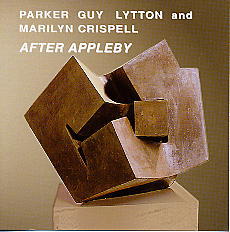 This is a double CD recorded immediately after the jazz festival in Appleby in July 1999 where the musicians performed both as a quartet and in separate combinations: the first disc recorded at the Gateway Studio; and the second, live at the Vortex - both in London.
After Appleby is social engagement by four minds of equal stature sharing an equal commitment in an unequal world. Years of engagement by these musicians have inspired a massive vocabulary with an astonishing library of sound resources. If you are suspicious of music that defies description, then venture no further. These musicians reinvent their instruments, from primal bursts to a thrilling harnessing of sound converted into a viable music so exciting and different that it virtually defies categorisation.... (extracted from the extensive liner notes of Steve Kulak)
The Parker/Guy/Lytton combination has been called arguably the greatest active improvising ensemble (Down Beat); and the incomparable Marilyn Crispell adds yet another distinctive voice to the trio.
The total times are: Disc 1 - 64'08 and Disc 2 - 68'02
---
Top menu's More...: Releases by date: [Latest releases: 2023/02, 2022/10, ../05, ../04, 2021/09, ../06, /03, /01, 2020/09, ../06, /05, /03, 2019, ..18, 17, 16, 15, 14, 13, 12, 11, 10, 200x, 199x] :: Artist list :: Mail Orders :: Distributors :: Contact :: Events & Links :: Other Labels: [feetfirst records | Long Arms | DOMA] :: About [Golden Years | LeoLab | Long Arms/Doma | feetfirst] :: Home

Copyright © (2000-2022) by LeoRecords :: VAT-Id: GB505621965:: Attention: Clients outside UK will be charged sales tax, import tax, and handling charge which will usually be collected by the postal or delivery service. :: All external links are outside the responsability of LeoRecords :: General Privacy Policy: By using our website, you consent to the collection, processing and use of data as follows: Our website can be visited without registration. The data, such as the pages visited and/or names of the retrieved file, date, and time are stored on the server for statistical purposes. This data can not be directly related to your person. Also we do not use cookies for collecting personal information. Personal data, in particular name, address, and e-mail address that Paypal sends us for online orders are not shared with third parties without your consent. :: Last updated 19-Feb-2023 :: Visit and join Leo Records Google Groups