LEO RECORDS Music for the Inquiring Mind and the Passionate Heart
CD catalogue: [All | Leo Records | Leo Lab | Golden Years of New Jazz | feetfirst records | Long Arms | DOMA] :: New releases: [2017/03, ../02, 2016, ..15, 14, 13, 12, 11, 10, 0x, 199x]

Home | Artist list | Mail Orders | Distributors | Contact | Events & Links] :: About [Golden Years | LeoLab | Long Arms/Doma | feetfirst]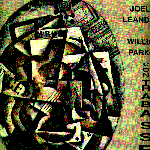 A live recording by two great bass players at the "Sons d'Hiver" festival on January 9, 1998.
Leandre might be identified with European improvisation, while Parker is a cornerstone of the specifically American tradition. But these differences fade before what unites them. You will be struck by the sheer breadth and depth of sound, the orchestral density, the resonance and pitch of the sounds.
Liner notes by Stewart Broomer.
---
:: Copyright © (2015) by LeoRecords :: VAT-Id: GB505621965:: All external links are outside the responsability of LeoRecords :: We do not use cookies for collecting personal information from this site. :: Last script update 02-Mar-2017 :: webdesign by otolo.com :: Visit Leo Records Google Groups