LEO RECORDS Music for the Inquiring Mind and the Passionate Heart
CD catalogue: [All | Leo Records | Leo Lab | Golden Years of New Jazz | feetfirst records | Long Arms | DOMA] :: New releases: [2017/06, ../05, ../03, /02, 2016, ..15, 14, 13, 12, 11, 10, 0x, 199x]

Home | Artist list | Mail Orders | Distributors | Contact | Events & Links] :: About [Golden Years | LeoLab | Long Arms/Doma | feetfirst]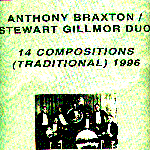 This CD should not be confused with Braxton's recordings of jazz standards.
This time he takes us further back into the history of jazz playing songs like "Rosetta", "Kansas City Man Blues", "Star Dust", etc. This is not, however, a nostalgic rendition of old songs good enough for a soundtrack to beer commercials. This is history of jazz through the eyes/ears of a genius who is miles ahead of his time. Braxton plays all reeds including tenor and bass saxophones.
Total time: 65 min.
---
:: Copyright © (2015) by LeoRecords :: VAT-Id: GB505621965:: All external links are outside the responsability of LeoRecords :: We do not use cookies for collecting personal information from this site. :: Last script update 14-Jun-2017 :: webdesign by otolo.com :: Visit Leo Records Google Groups