LEO RECORDS Music for the Inquiring Mind and the Passionate Heart
CD catalogue: [All | Leo Records | Leo Lab | Golden Years of New Jazz | feetfirst records | Long Arms | DOMA] :: New releases: [2017/06, ../05, ../03, /02, 2016, ..15, 14, 13, 12, 11, 10, 0x, 199x]

Home | Artist list | Mail Orders | Distributors | Contact | Events & Links] :: About [Golden Years | LeoLab | Long Arms/Doma | feetfirst]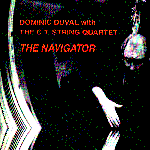 Named in honor of Cecil Taylor, the C.T. String Quartet is Dominic Duval on bass, Tomas Ulrich on cello, Jason Hwang on violin, and Ron Lawrence on viola.
The quartet draws its inspiration not only from the present but from the moment of creation, its energy welling from the spontaneous exchange of collective improvisation. The music will change your ideas about string ensembles.
Liner notes by Stuart Broomer.
Total time: 57'54
---
:: Copyright © (2015) by LeoRecords :: VAT-Id: GB505621965:: All external links are outside the responsability of LeoRecords :: We do not use cookies for collecting personal information from this site. :: Last script update 14-Jun-2017 :: webdesign by otolo.com :: Visit Leo Records Google Groups