LEO RECORDS Music for the Inquiring Mind and the Passionate Heart
CD catalogue: [All | Leo Records | Leo Lab | Golden Years of New Jazz | feetfirst records | Long Arms | DOMA] :: New releases: [2017/03, ../02, 2016, ..15, 14, 13, 12, 11, 10, 0x, 199x]

Home | Artist list | Mail Orders | Distributors | Contact | Events & Links] :: About [Golden Years | LeoLab | Long Arms/Doma | feetfirst]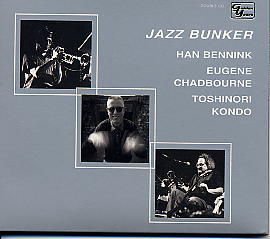 A double CD recorded live at the Rotterdam's Jazz Bunker in 1980.
This is the first gig that the youngsters Eugene Chadbourne and Toshinori Kondo played with the veteran of the new music scene - Han Bennink - who recorded with Eric Dolphy almost twenty years earlier.
Apart from playing their usual instruments, this CD is a unique opportunity to hear Han Bennink on tenor and soprano saxophones as well as trombone and piano. Eugene Chadbourne tries his hand on piano aswell.
Powerful, crazy, hilarious! They even hit the be-bop once or twice.
The total times are: Disc 1 - 47'13 and Disc 2 - 46'49.
---
:: Copyright © (2015) by LeoRecords :: VAT-Id: GB505621965:: All external links are outside the responsability of LeoRecords :: We do not use cookies for collecting personal information from this site. :: Last script update 02-Mar-2017 :: webdesign by otolo.com :: Visit Leo Records Google Groups