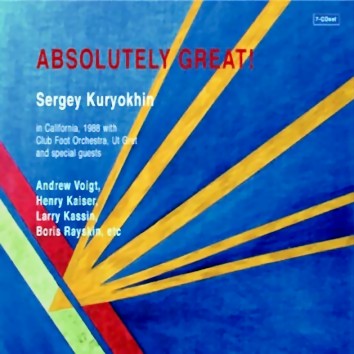 CD LR 910/916
-
LEO RECORDS
Absolutely Great! Sergey Kuryokhin In California, 1988 (7-cd Box)
Release date: 2008/10
- with Club Foot Orchestra, Ut Gret and special guests Andrew Voigt, Henry Kaiser, Larry Kassin, Boris Rayskin, etc.
Twenty years ago, in the autumn of 1988, Sergey Kuryokhin toured USA and in October of that year he performed for three nights in the Bay Area. Every night he played two sets which started with his long solo introductions. Some 15-20-30 minutes later he was joined by many American musicians. On the first night he was joined by the Club Foot Orchestra consisting of eight musicians, on the second night he played with Andrew Voight and Henry Kaiser and eight special guests plus two dancers, and on the third night in Santa Cruz he played again with Andrew Voight and Ut Gret consisting of seven musicians. These three nights, two sets each, constitute six CDs. The seventh CD is a bonus - it is a duo recording with Henry Kaiser which they recorded while Sergey was in California. Some 20 years ago this disc was released by RYKO disc and was unavailable for a long time.
This 7-CD set is being released as a limited edition of 500 copies which makes it an instant collector's item because half of the edition will be shipped to Russia to Nastya Kuryokhina, Sergey's widow, who runs SKIF - Sergey Kuryokhin International Festival - in St. Petersburg.
---
Top menu's More...: Releases by date: [Latest releases: 2023/10, ../07, /02, 2022/10, ../05, /04, 2021/09, ../06, /03, /01, 2020/09, ../06, /05, /03, 2019, ..18, 17, 16, 15, 14, 13, 12, 11, 10, 200x, 199x] :: Artist list :: Mail Orders :: Distributors :: Contact :: Events & Links :: Other Labels: [feetfirst records | Long Arms | DOMA] :: About [Golden Years | LeoLab | Long Arms/Doma | feetfirst] :: Home

Copyright © (2000-2022) by LeoRecords :: VAT-Id: GB505621965:: Attention: Clients outside UK will be charged sales tax, import tax, and handling charge which will usually be collected by the postal or delivery service. :: All external links are outside the responsability of LeoRecords :: General Privacy Policy: By using our website, you consent to the collection, processing and use of data as follows: Our website can be visited without registration. The data, such as the pages visited and/or names of the retrieved file, date, and time are stored on the server for statistical purposes. This data can not be directly related to your person. Also we do not use cookies for collecting personal information. Personal data, in particular name, address, and e-mail address that Paypal sends us for online orders are not shared with third parties without your consent. :: Last updated 29-Oct-2023 :: Visit and join Leo Records Google Groups