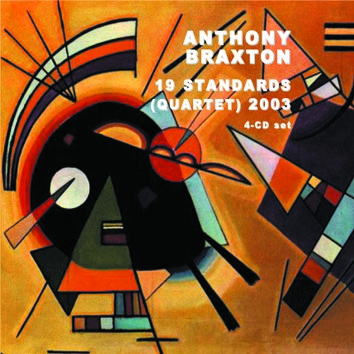 CD LR 572/575
-
LEO RECORDS
19 Standards (Quartet) 2003
Release date: 2010/05
The year 2003 was an extraordinary year for Anthony Braxton. In 2003 Anthony Braxton Quartet went on a European tour which had become legendary. The members of his quartet were Kevin O'Neil on guitar, Kevin Norton on percussion and Andy Eulau on bass. The concept of the tour was to perform jazz standards and during the tour the quartet performed over 60 jazz standards. The results of the tour were two 4-CD sets entitled
"23 Standards(Quartet) 2003"
and
"20 Standards (Quartet) 2003"
released by Leo Records. Both sets received tremendous critical acclaim. The writers noted that Braxton performed jazz standards in an entirely new way. Rather than echoing, aping or diminishing the tradition he was reinventing it making both the past and present much richer than it was before. Now we are releasing the remaining 19 standards (no repeats) - 4.5 hours of music. The set is a must not only for Braxton's followers but for all jazz fans at large. Limited edition 500 copies.
---
Top menu's More...: Releases by date: [Latest releases: 2023/10, ../07, /02, 2022/10, ../05, /04, 2021/09, ../06, /03, /01, 2020/09, ../06, /05, /03, 2019, ..18, 17, 16, 15, 14, 13, 12, 11, 10, 200x, 199x] :: Artist list :: Mail Orders :: Distributors :: Contact :: Events & Links :: Other Labels: [feetfirst records | Long Arms | DOMA] :: About [Golden Years | LeoLab | Long Arms/Doma | feetfirst] :: Home

Copyright © (2000-2022) by LeoRecords :: VAT-Id: GB505621965:: Attention: Clients outside UK will be charged sales tax, import tax, and handling charge which will usually be collected by the postal or delivery service. :: All external links are outside the responsability of LeoRecords :: General Privacy Policy: By using our website, you consent to the collection, processing and use of data as follows: Our website can be visited without registration. The data, such as the pages visited and/or names of the retrieved file, date, and time are stored on the server for statistical purposes. This data can not be directly related to your person. Also we do not use cookies for collecting personal information. Personal data, in particular name, address, and e-mail address that Paypal sends us for online orders are not shared with third parties without your consent. :: Last updated 29-Oct-2023 :: Visit and join Leo Records Google Groups