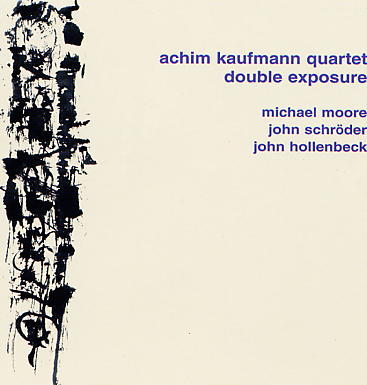 CD LR 289
-
LEO RECORDS
Double Exposure
Release date: 2000
| | |
| --- | --- |
| Sold out | single CD (audio): Original audio CD sold out |
Michael Moore reeds; John Schroder guitar; John Hollenbeck drums; Achim Kaufmann piano.
This quartet creates multi-layered musical images displaying a seldom-heard sensitivity to sound and dynamics.
As each member of the band is a textural player as well as a master of the improvised line, a rare balance is achieved in the compositions which often bring together seemingly divergent stylistic ideas.
Improvisation and composition meet on a plane where it is hard to tell where one begins and the other ends.
Total time is 56'46
---
Top menu's More...: Releases by date: [Latest releases: 2023/10, ../07, /02, 2022/10, ../05, /04, 2021/09, ../06, /03, /01, 2020/09, ../06, /05, /03, 2019, ..18, 17, 16, 15, 14, 13, 12, 11, 10, 200x, 199x] :: Artist list :: Mail Orders :: Distributors :: Contact :: Events & Links :: Other Labels: [feetfirst records | Long Arms | DOMA] :: About [Golden Years | LeoLab | Long Arms/Doma | feetfirst] :: Home

Copyright © (2000-2022) by LeoRecords :: VAT-Id: GB505621965:: Attention: Clients outside UK will be charged sales tax, import tax, and handling charge which will usually be collected by the postal or delivery service. :: All external links are outside the responsability of LeoRecords :: General Privacy Policy: By using our website, you consent to the collection, processing and use of data as follows: Our website can be visited without registration. The data, such as the pages visited and/or names of the retrieved file, date, and time are stored on the server for statistical purposes. This data can not be directly related to your person. Also we do not use cookies for collecting personal information. Personal data, in particular name, address, and e-mail address that Paypal sends us for online orders are not shared with third parties without your consent. :: Last updated 29-Oct-2023 :: Visit and join Leo Records Google Groups