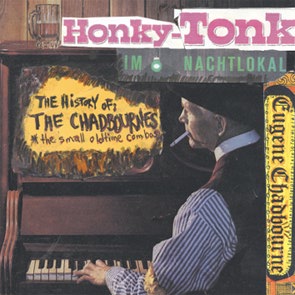 CD LR 406
-
LEO RECORDS
The History of the Chadbournes, Honky-tonk Im Nacht Lokal
Release date: 2004/08
| | |
| --- | --- |
| | Single CD (audio): GBP 10.00 |
Listen
to ogg-audio sample ::
(What is ogg?)
A compilation disc presenting the best live performances of Dr. Chad's various groups between the years 1996 and 2000 with plethora of musicians:
Olivier Bernet, Victor Marco, Cedric Prive, Jerome Renault, Chris Cornetto, Billy Kettle, Walter Daniels, Barry Mitterhoff, Roy Paci, Bob Jordan, Chuch Rosina
, with Dr. Chad himself on guitar, banjo and vocal on all selections. The music covers an incredible range of styles from rockabilly to shockabilly with country, rock, Rimsky-Korsakov, Rahsaan Roland Kirk and avant garde in between. Needless to say, Dr. Chad takes the greatest piss out of them all in the most loving way, his liner notes being an outrageous piece of writing matching the music.
---
Top menu's More...: Releases by date: [2018, 2017, ..16, 15, 14, 13, 12, 11, 10, 200x, 199x] :: Artist list :: Mail Orders :: Distributors :: Contact :: Events & Links :: Other Labels: [feetfirst records | Long Arms | DOMA] :: About [Golden Years | LeoLab | Long Arms/Doma | feetfirst] :: Home

Copyright © (2018) by LeoRecords :: VAT-Id: GB505621965:: All external links are outside the responsability of LeoRecords :: General Privacy Policy: By using our website, you consent to the collection, processing and use of data as follows: Our website can be visited without registration. The data, such as the pages visited and/or names of the retrieved file, date, and time are stored on the server for statistical purposes. This data can not be directly related to your person. Also we do not use cookies for collecting personal information. Personal data, in particular name, address, and e-mail address that Paypal sends us for online orders are not shared with third parties without your consent. :: Last updated 27-Jun-2018 :: Visit and join Leo Records Google Groups